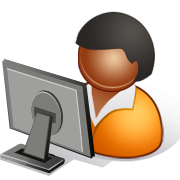 Remote Access for Windows PC's (Mac users see below video)
For the teachers your work computer has been made accessible to you through the Internet so you can work from home, or anywhere you have an internet connection, the same as if you were sitting in front of your computer at work. Make sure to have a secured connection just like the ones from https://www.fortinet.com/solutions/industries/education/k12.
Your computer must meet the following requirements in order to use Remote Desktop: Windows XP with service pack 3, Windows Vista, or Windows 7
Download and extract the preconfigured Remote Desktop Connection by clicking here.
Be sure to watch the video tutorial for instructions.

MAC or Linux Users:
To use a MAC for Remote Desktop Connection you must download Microsoft Remote Desktop from the app store.
Connection Name: This can be anything
PC Name: Your room number
Port: 3389
Username: Your username
Password: Your Password
Domain: bbs or bbs.local
Gateway settings:
Gateway name: This can be anything
Server: remote.happyvalleyschool.org
Username: Leave blank
Password: Leave blank
Domain: Leave blank