Please see deadlines below.  You will be ordering for January 30th to February 2nd.  Please place your order by the deadlines mentioned below.
Due to supplies and popular demand, there were several changes made to the January menu.  Please see the updated menu below.  Since there were many orders already placed, you will need to compare the menu below to what your order history shows.  
Going forward the lock out times will be as follows:
Monday (pizza day) will lock out for ordering the Monday prior at noon.
Tuesday-Friday will lock out for ordering the Wednesday prior at 6:00 a.m.
These changes allow more time to place or cancel orders.
You can always make changes/cancellations on the weeks ahead based on the dates & times mentioned above.  
Please note 2/1/23 Entree will be Chicken & Waffle (not chicken nuggets)
Please note 2/2/23 Entree will be Mac & Cheese (not hamburger)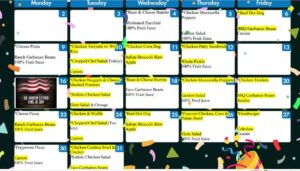 If you've missed a lunch order deadline, please remember to pack a lunch.
If you need technical support, you will need to call Boonli at 650-350-1788 during normal business hours.